FIRST IN ASIA Minus Calories Self-Service Automated Express NIR Workout Studio at Singapore's prime district and central locations. Our workouts cater only to ladies as we help to target ladies' lower body weight issues, pre and post-natal, cellulite problems as well as menopause, and even those who are underweight, suffering from bulimia, binge eating, etc. We cater to ladies only clients at every stage of their life.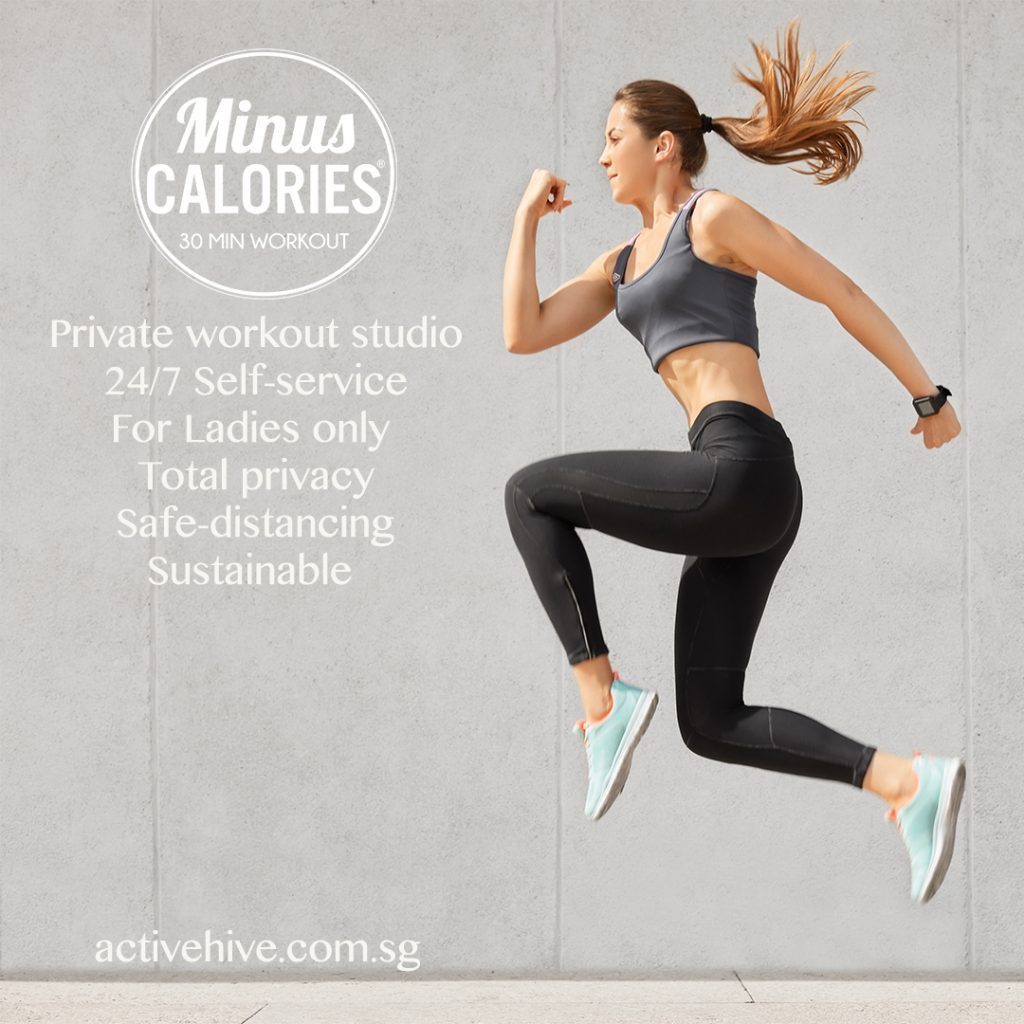 Each session caters exclusively to only 1 lady client with no intermingling with other clients. Our Wellness Coach and the single client will wear masks during the session when the client is in consultation and guidance for the workout. (Phase 2 Heightened Alert and we adhere strictly to government's guidelines where applicable)
Client on self-service sessions can unmask during their personal workout sessions as the studio only has 1 equipment and caters to 1 client per session.
Our premises, especially high touchpoint areas are sanitised daily to ensure a hygienic and clean environment. Hand sanitisers and anti-bacterial wipes are provided to clients to wipe before and after using equipment and touchpoints areas.
We are a stand-alone studio and there is no central air-conditioner which might increase the risk of air-borne transmissions.
YOUR PERSONAL WORKOUT SPACE
Ladies can enjoy great privacy, exclusivity and peace of mind without the hassle of going to crowded workout places as the workout is conducted in a private room.
Minus Calories as the name indicates means to reduce the calories in our body, burning fat effectively at the optimum fat-burning heart rate zone. Minus Calories revolutionary 30-minute workout is available exclusively at Active Hive.
We understand each and every client's requirements, needs, and expectations and all workout programs will be tailored to suit as such, ensuring the whole Minus Calories Workout Experience is enjoyable and fulfilling.
Besides total privacy, most importantly Minus Calories Workout has proven to be a sustainable workout with lasting results, excellent for stamina-building, improving metabolism, weight loss, cellulite reduction and body firming.
Minus Calories workout has been proven effective and safe for our clients since our inception in December 2014.
Key Benefits of Minus Calories Near Infra-Red workout:
Saves time and effort
Burn more than 5 to 10 times calories than any other exercises
Targets fat-burn
Improve blood circulation
Improve metabolism
Reboot the body system especially for those who have not been exercising and risk injuries
Relieves body aches and pains
Promotes healing and improve cell growth
Stimulate collagen production
Reduce cellulite
Slows down ageing process
Eases chronic inflammatory problems such as rheumatism and arthritis
Relieves fatigue and stress
Helps in sports-related and musculoskeletal injuries
Elimination of toxins such as fats, carcinogenic heavy metals, toxic substances from food processing, lactic acid, free fatty acids and uric acids
Find out more by contact us today! BOOK your workout sessions now.