Agnes
Founder, Writer, Wellness Coach, Registered Yoga Instructor (RYT200)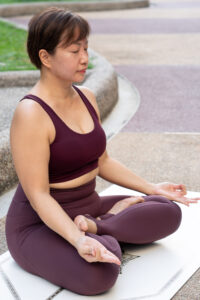 Agnes, 52 years-old is a Wellness Coach and registered Yoga Instructor with Yoga Alliance since 2021.  
She has been practising yoga since 2015.  Defying her age and personal health conditions, she decided to dedicate time to study yoga philosophies, techniques and therapy with proper certification to deepen her understanding at the age of 50. 
A mother of two, and personally going through some health conditions from the age of 40 years old, experiencing weight gain, swollen joints, knee pain, neck and shoulder pain, weak core, lack of arm strength and flexibility, weak legs, breathlessness, perimenopause and vertigo, she has gradually managed these conditions through cardio, stamina training and yoga practice. 
She believes in keeping life in balance through a holistic and mindful approach, from physical activities to enrichment for the mind and soul through yoga practice, art therapies, singing, bonding with family and like-minded friends. 
Specialising in yoga for ladies especially, she dedicates to teach yoga and provide therapy to ladies of all ages, to help them safely and be on the road to healing, and to help them find their own ideals, bring awareness within, transform positively and live life to the fullest.
She is also the yarn colourist for @softlymadecottage @softlymadekuehs where she finds it therapeutic to work with colours. 
Credentials: 
300-hours Yoga Therapy Certificate Course
100-hours Advanced Yoga Teacher Training Course 
100-hours Advanced Hatha Yoga Instructor Certification Course 
200-hours Yoga Instructor Training Course 
Other trainings and workshops:
10-Hours Ashtanga Vinyasa Foundational Workshop 
10-Hours Backbend Workshop
10-Hours Core Strengthening Workshop
10-Hours Hips, Splits and Shoulders Workshop
25-Hours Pre-Natal Yoga Teachers' Training
25-Hours Yoga Therapy Certificate Course for Back, Neck, Sciatica Pain
Mastering Arm Balance Yoga Workshop
Yoga Therapy for Stiff, Painful, Frozen Shoulder Workshop
ISA Exercise Prescription for Special Populations (Metabolic and Cardiovascular Disease)
ISA Exercise Prescription for Special Populations (Youth, Elderly and Pregnant)
ISA Introduction to Fitness Nutrition
ISA Introduction to Kettlebell
Let Agnes and her team customise a wellness, fitness and healing programme just for you.  
Corporates can also engage Active Hive's team for their employees' corporate wellness and yoga programmes.  Email enquiry@activehive.com.sg for more information and rates.